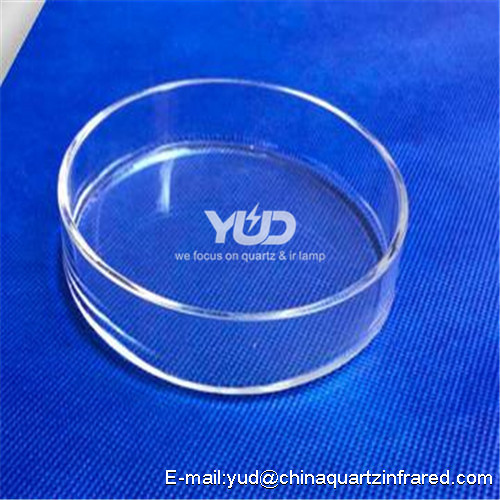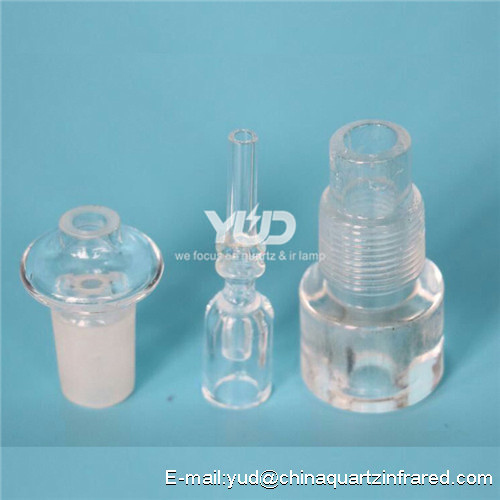 Quartz can be broadly divided into the following categories: Transparent quartz tube (diameter 1.5mm - 300mm), filter UV quartz tube, color quartz tube.
High temperature quartz glass softening point temperature of about 1730 ℃, 1100 ℃ for a long time to use a short time up to a maximum temperature of 1450 ℃,
Corrosion In addition to hydrofluoric , quartz glass almost no chemical reaction with other its resistance is 30 times the ceramic, stainless steel 150 times,
Especially at high temperatures, the chemical stability of any other engineering materials are unmatched.
Thermal stability Quartz glass has a very small coefficient of thermal expansion, can withstand dramatic temperature changes, the quartz glass is heated to about 1100 ℃, will not burst into water at room temperature.
Transparency Quartz glass in the entire spectral band of ultraviolet to infrared have good light transmission, visible light transmittance of 93% or more, especially in the UV spectral region,
The maximum transmittance of up to 80 or more
Electrical Insulation Performance Quartz glass resistance equivalent to 10,000 times the ordinary glass, is an excellent electrical insulation material, even at high temperatures also have good insulation properties.
Quartz glass because of the excellent physical and chemical properties, it is widely used in electric light, semiconductor, optical communications, military, metallurgy, building materials,
Chemical, mechanical, electric power, environmental protection and other fields.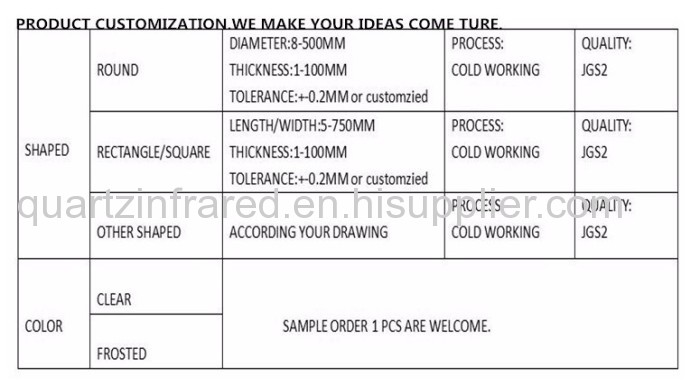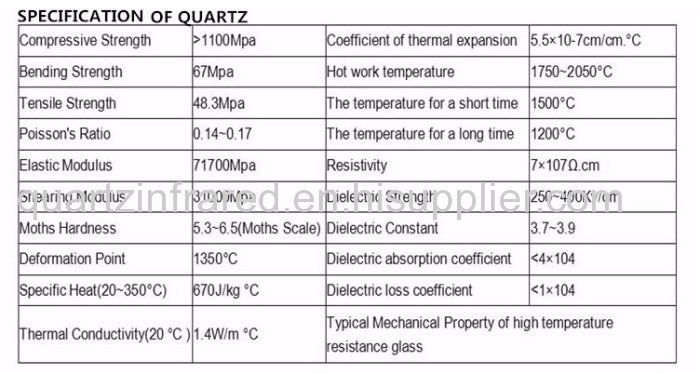 Lianyungang Yuanda Quartz Product Co.,Ltd (YUD)is a leading manufacturer in the infrared heating tech and quartz glass products .With many years of produce and export experience, we got much trust and supports from our customers all over the world.
Our advantage is provide professional customized solution according different application.
The products have been sold and highly recognized in the markets including the America, Europe, the Middle East and South Asia .
The YUD TECH infrared lamps and YUANDA quartz glass have been used in over 3000 industrial heating processes, including: Automotive, Food, Glass, Plastics, Textiles, Semi-conductor, Printing, Electronics and etc. for Drying, Coating, Laminating and Annealing and ect.
The quartz glass products are good use in industry includes Drying and Solidification,Lab instruments, semiconductor,Optical,,Solar,CCFL,Electric heating.
Our popular products including:
IR lamp products:
1. Single tube lamp: in short wave, medium wave, fast medium wave
And far wave infrared heating lamps.
2. Ring shape lamp .M shaped lamp.U shaped lamp etc.
3.OEM /Custom the quartz heater lamps according your drawing.
4. Accessories for IR lamps
Quartz glass products:
1.Quartz glass tubing.UV quartz tube
2.quartz plate.quartz sheet.quartz window
3.quartz rod
4.quartz test tube.quartz crucible and other quartz instrument for lab
Our clients all enjoy the best quality, competitive price and good service.
We hope to have the opportunity to cooperate with you in the future!