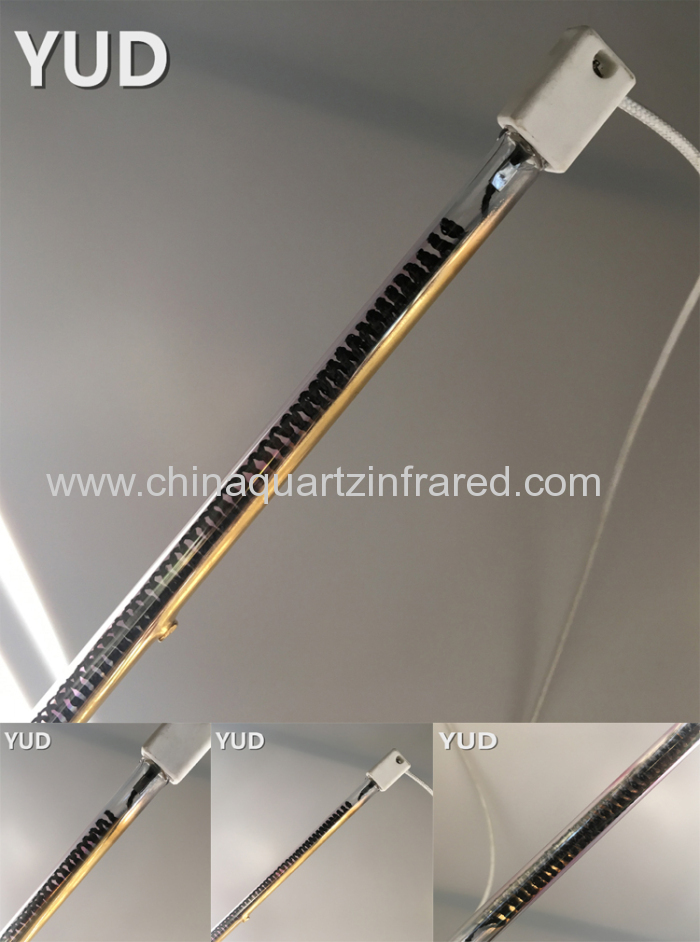 Fully woven carbon fiber heating body is a pure black body material, so with rapid heating, thermal hysteresis, heat evenly, heat radiation transmission distance, heat exchange speed and so on. The luminous flux in the working process is much smaller than the electric heating tube of the metal heating element, and the electric conversion efficiency is as high as 98% or more. Turn on the power after the heating rate is surprisingly fast, the body has been hot in 1 to 2 seconds, 5 seconds surface temperature up to 300-700 degrees.
Fully weaved carbon fiber quartz tube heat emission is based on far-infrared radiation, which emits far-infrared wavelengths between 8μm -14μm, this wavelength far-infrared spectrum known as the "light of life," accounting for More than 80% of the overall wavelength. At the same time, it can be absorbed by the water molecules in the air to produce the resonance frictional heat effect, which realizes the function of rapidly increasing the temperature of the heating environment. In particular, it can effectively activate human tissue cells, promote blood circulation, speed up new metabolism and enhance immunity. At the same time, it also has the effect of deodorant, dehumidification and antibacterial. When the carbon fiber heating tube heats up, it can generate 765.9W / M of infrared radiation, A spectrum physiotherapy instrument. People who have been afflicted with arthritis or other rheumatic diseases for long periods of time can achieve significant relief and relief after frequent use.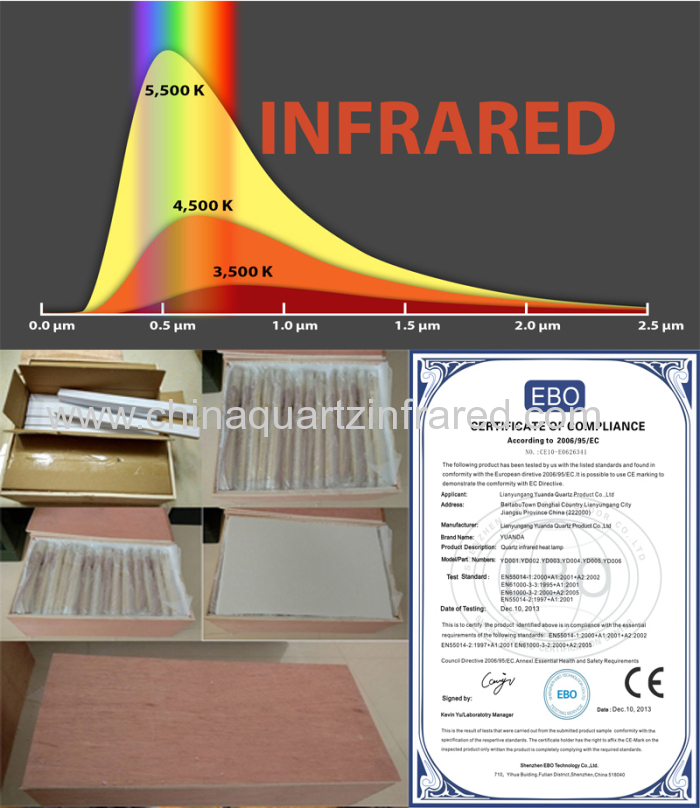 Voltage
Wattage
Twin tube
Total length
ModelNo.
PartNo.


v
w
mm
mm
Gold/White


1
230
450
23*11
450
YUDTWINIR-001


2
230
500
23*11
405
YUDTWINIR-002


3
230
1500
23*11
800
YUDTWINIR-003


4
230
2100
23*11
750
YUDTWINIR-004


5
230
1800
23*11
650
YUDTWINIR-005


6
230
1600
23*11
620
YUDTWINIR-006


7
115
600
23*11
305
YUDTWINIR-007


8
230
800
23*11
545
YUDTWINIR-008


9
230
750
23*11
620
YUDTWINIR-009


10
230
1250
23*11
500
YUDTWINIR-010


11
220
1750
15*33
400
YUDTWINIR-011


12
415
1350
15*33
1050
YUDTWINIR-012


13
230
1200
33*15
700
YUDTWINIR-013


14
230
1500
15*33
800
YUDTWINIR-014


15
230
2000
15*33
1200
YUDTWINIR-015


16
230
2450
15*33
1400
YUDTWINIR-016


17
230
3450
15*33
1520
YUDTWINIR-017


18
230
3650
15*33
1600
YUDTWINIR-018


19
380
4800
15*33
2350
YUDTWINIR-019


20
400
4200
15*33
1900
YUDTWINIR-020


Lianyungang Yuanda Quartz Product Co.,Ltd (YUD)is a leading manufacturer in the infrared heating tech and quartz glass products .With many years of produce and export experience, we got much trust and supports from our customers all over the world.
Our advantage is provide professional customized solution according different application.
The products have been sold and highly recognized in the markets including the America, Europe, the Middle East and South Asia .
The YUD TECH infrared lamps and YUANDA quartz glass have been used in over 3000 industrial heating processes, including: Automotive, Food, Glass, Plastics, Textiles, Semi-conductor, Printing, Electronics and etc. for Drying, Coating, Laminating and Annealing and ect.
The quartz glass products are good use in industry includes Drying and Solidification,Lab instruments, semiconductor,Optical,,Solar,CCFL,Electric heating.
Our popular products including:
IR lamp products:
1. Single tube lamp: in short wave, medium wave, fast medium wave
And far wave infrared heating lamps.
2. Ring shape lamp .M shaped lamp.U shaped lamp etc.
3.OEM /Custom the quartz heater lamps according your drawing.
4. Accessories for IR lamps
Quartz glass products:
1.Quartz glass tubing.UV quartz tube
2.quartz plate.quartz sheet.quartz window
3.quartz rod
4.quartz test tube.quartz crucible and other quartz instrument for lab
Our clients all enjoy the best quality, competitive price and good service.
We hope to have the opportunity to cooperate with you in the future!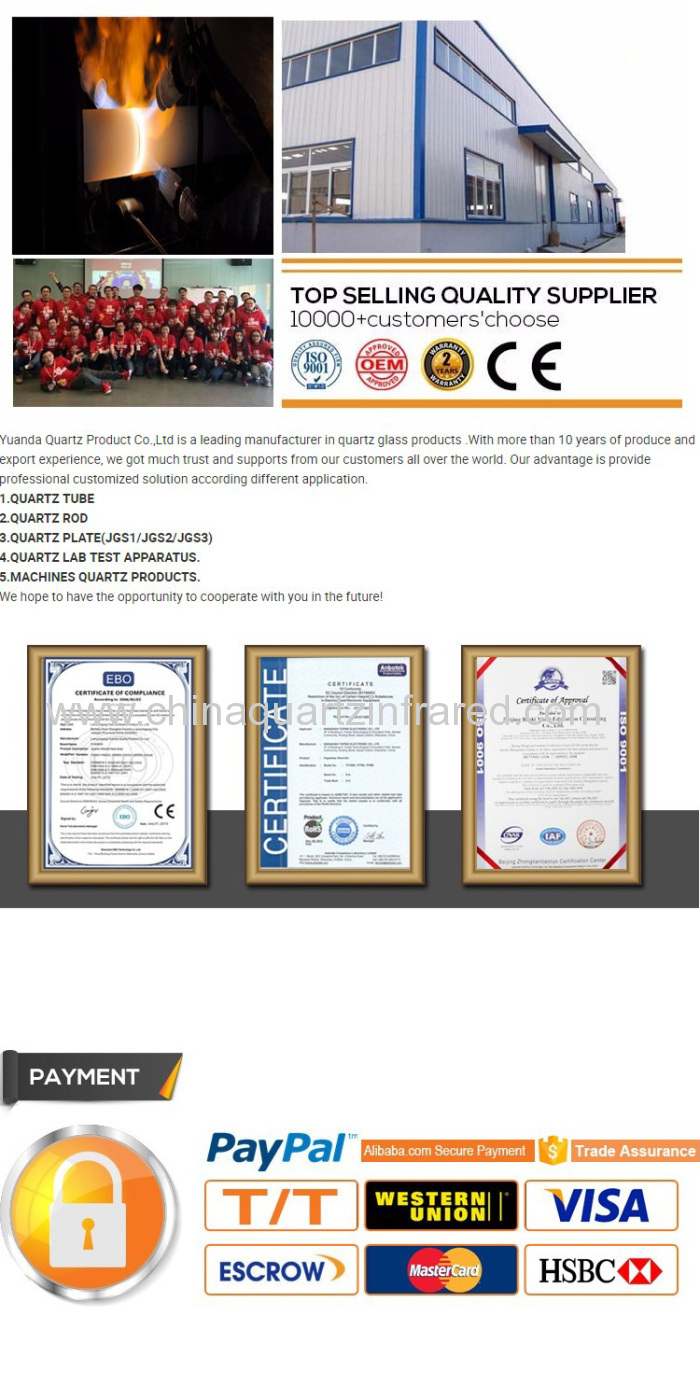 HOT TYPE